Happy Birthday Hannah Frank (1908-2008)
Born on August 23, 1908, Hannah Frank was one of the last artists to work in the Glasgow Style during Art Nouveau period. She had a long career working as an illustrator and sculptor. Although she was inspired by Margaret MacDonald and Jessie M King, her work demonstrates a distinctive style.
She enrolled in the Glasgow School of Art in 1927 and graduated in 1930, the only student of Jewish faith. Her parents both originated in Russia, settled in Scotland and sold Kosher oil. During her time in school, she has numerous poems and illustrations published in the school magazine.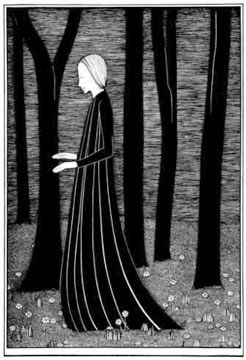 Woman and Trees (1931), Pen and Ink
Her works vary from melancholic to mystic. Her works during WWII, with two brother in the army, depict grim, gaunt figures.
Night Forms (1932) Pen and Ink
In 1939, she married Lionel Levy, a mathematics and science teacher, who lived until 2003. They never had children, but Fiona Frank, her niece would visit often.
Out of the Dark a Shadow Passed
In the early 1950s, she enrolled in sculpture classes at the Glasgow School of Art to improve her anatomy skills for her drawings. However, the last print she created was in 1952. She exhibited her sculptures at  the Royal Scottish Academy, the Royal Glasgow Institute and the Royal Academy in London.
Frank lived to be 100 years old.