Happy Birthday Louise Nevelson (1899-1988)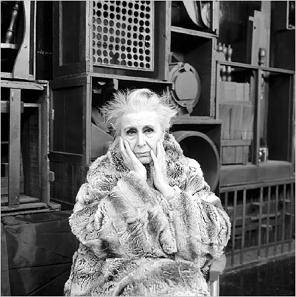 Noted as a creator of assemblages of found objects and doused in black paint, Nevelson became the darling of the New York art scene during the last several decades of her life. She was born Louise Berliawsky on September 23 in Kiev, Russia (now Ukraine). At age five moved to Rockland, Maine with her parents and three siblings where her father ran a lumber yard. As a Jewish immigrant fleeing from the Tsarist Russians, she felt out of place. Growing up in Maine, she dreamed about moving to New York City.  In 1920, she met and married Charles Nevelson, a WASP, who came from a stuffy background similar to her neighbors she fled from back in Maine. Two years later, they had a son. In 1929, she began studying at the Art Students League with Kenneth Hayes Miller. And in 1931, she separated from her husband, sent her son to stay with her parents back in Maine and left to study in Munich briefly with Hans Hofmann until he was forced to flee from the Nazis. She then studied in Paris and Italy and returned to New York City back to study with Hofmann. She worked as an assistant to Diego Rivera to work on the mural for The New Workers' School.
In 1941 she divorced and had her first one-woman show. Karl Nierendorf, of Nierendorf Gallery in New York, represented her work. But when he died in 1947, she struggled. She found bits of wood with nails in them and trash and began to create with these found objects. It was not until 1957 when she received critical acclaim with her wood and box-like assemblages. Two years later she participated in an important group exhibition at the MoMa where she showed her assemblage of found objects, this time painted white.  Nevelson's dramatic sculptures broke the stereotype that only men could create large-scale works. The 1960 and 70s were good to her. She exhibited widely and in 1977, made the Best Dressed List donning her mink eyelashes.
She lived simply, and did not desire material possessions and worked well into her 80s. Although she is mostly known as an assemblage artist, she was also an abstract expressionist and a minimalist. Nevelson held several teaching positions at the Educational Alliance and the New York School for the Deaf, and received numerous awards and honorary doctorate degrees. Nevelson is considered one of the most important American sculptors.